Webster Technique
at San Jose Chiropractic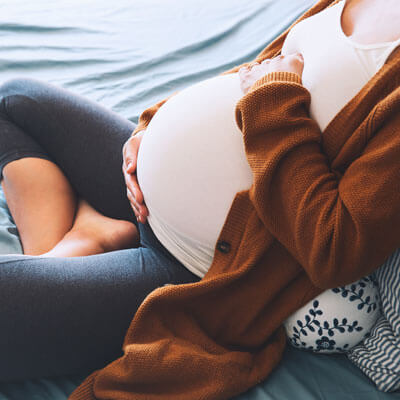 At San Jose Chiropractic, we love helping pregnant women have the best experience possible, both for themselves and for their developing baby. Dr. O is certified by the International Chiropractic Pediatric Association in the Webster Technique. This unique chiropractic analysis and adjusting method was developed specifically for prenatal care.
A graduate of Palmer College of Chiropractic in Florida, Dr. Thuraia Owais (Dr. O) learned the Webster Technique in school. However, she wanted to offer pregnant women the best care possible, so she pursued postgraduate education and certification in the method through the prestigious International Chiropractic Pediatric Association.
Pregnancy Can Be Comfortable
We're taught to believe that pregnancy is supposed to be uncomfortable and painful, and there's nothing to do about it but get through it. But that's not true—women's bodies are designed to grow and deliver babies. When their bodies are functioning as they should, that process does not have to create pain or discomfort.
Unfortunately, misalignments in your spine and pelvis can arise as your body undergoes numerous changes in a short amount of time. These misalignments can lead to the pain and discomfort many women experience. But when we keep your spine and pelvis in proper alignment, your body can function and move optimally and comfortably—and you can enjoy this special time even more.
This method begins with analysis to determine areas of spinal or pelvic misalignments. Dr. O will check your round ligament, the psoas muscle, your sacrum and pelvis. It could be that everything is "off" or perhaps just one thing is out of alignment. She'll then adjust you, based on your specific situation.
The adjustments themselves are gentle and safe for both you and your baby. They correct your spinal alignment and sacroiliac joint dysfunction, as well as align your pelvis. This relaxes the surrounding ligaments and eases uterine restriction.
When your pelvis is properly aligned, your uterus isn't restricted. This allows more space and greater freedom of movement for your unborn baby, and provides them the optimal environment to grow and develop. Although the Webster Technique does not move the baby, when your pelvis is properly positioned, your baby can move into the best position possible for birth. This can lead to an easier delivery, which benefits both you and your baby.
Just as you regularly see your OB-GYN during pregnancy, we recommend getting chiropractic care often during this time. Regular care can not only keep you more mobile and comfortable as your body grows and changes, but many studies confirm it can significantly reduce labor and delivery times and the need for interventions.
Even if you don't have pain or discomfort, there is a good chance your spine or pelvis can be misaligned. The hormone relaxin is released during pregnancy. It's what allows your bones and ligaments to become more flexible in preparation for delivery. But this same extra mobility can also cause misalignments as your center of gravity shifts. Regular Webster adjustments can help your body stay in the best alignment possible.
Get Started Today
No matter where you are in your pregnancy, chiropractic adjustments using the Webster Technique care help you feel better and move better. They can also optimize your baby's ability to grow, develop and thrive in utero, and provide an environment that leads to an easier and shorter birthing process.
Contact us today to learn more, or to schedule your first prenatal visit.
CONTACT US

Webster Technique Mandarin, Jacksonville FL | (904) 683-4476